Edit your wardrobe. Take a look at your clothes and assess what you wear most, least, or not at all. …
Organize hanging garments by type and color. …
Hangers, Choose the right hanger that does not Damage or pull your tops, dresses or jackets or slide off….

 
Set UP ZONES
Set up zones by How you Dress for Success
Set up zones for Him
Set Up Zones for Her
Set Up Zones By Designer
Set up Zone By Colors,  Light to Dark
Set Up Seasonal Sections for those Winter Wooly Sweaters
Set up a Seasonal Vacation Place for those Bathing Suits.
Zones give you and your Closet respect and Boundaries, believe me, you need this.

 
Why Do we need Zones and Boundaries in Our Feng Shui Closet?
Everything Needs a Home or a place.
It will get put away when washed
It will ensure you know where to find it
USE Labels! for a subtle reminder. You can get fancy or simple with labels… Please note I've tried everything and yes sticky notes fall off, just sayin'.
Hate Folding?
Invest in some brackets or perhaps a Closet organization system like  Easy Closets (use my affiliate link for a nice discount)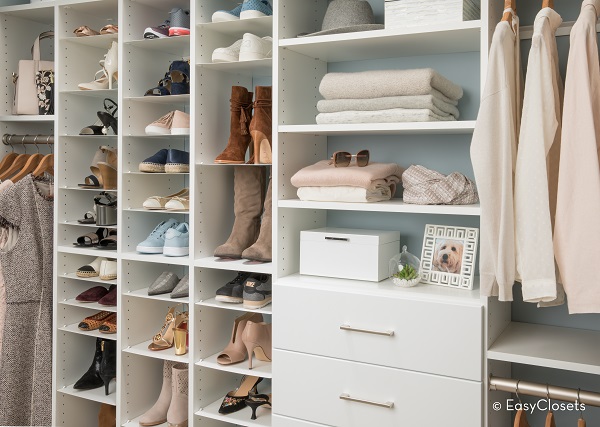 TIP! Take Out all the kids artwork and other pieces of Miscellaneous Momentos, wedding invitations, receipts, etc that we like to keep in that top drawer and move them out of your closet or bedroom to the office.
Continue sorting your Closet by Colour or Usage or Season or whatever you wear the most often, Feng Shui makes sense it doesn't have to be pretty but deep down inside you should feel good.
Having an Organized neat and tidy closet helps you get ready faster in the morning making you more Productive and that is Great Feng Shui!
Here are some more tips to help you Feng Shui your Closet: